Alemtuzumab safety advice: Listeriosis prevention
How to prevent listeriosis before, during and after treatment.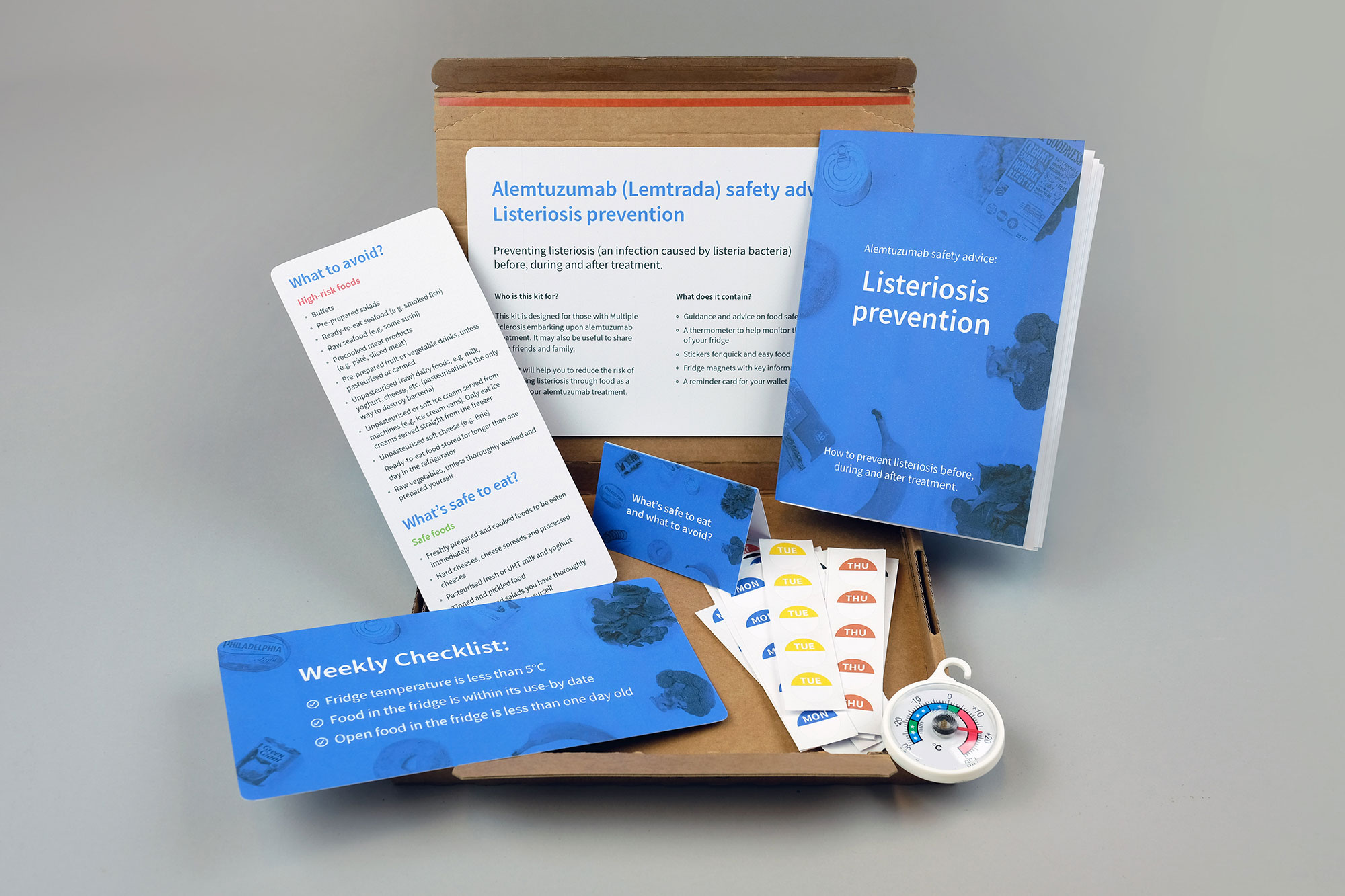 Order a FREE listeriosis pack now
Each pack contains:
A weekly checklist fridge magnet
Save/unsafe foods fridge magnet
Save/unsafe food wallet card to take on the go
Thermometer to check fridge temperature
Food labels to help track food use-by dates
Shipping costs apply. Worldwide shipping is available.
What's the risk of Alemtuzumab?
Your immune cells are dramatically reduced when taking alemtuzumab. Until the immune system recovers you have a greater risk of contracting infections through food, such as listeriosis. This could lead to septicaemia and meningitis.
The average time for the immune system to recover is 3 months.
What can I do?
A week before you start alemtuzumab treatment, follow all these guidelines. This will reduce your risk of contracting listeriosis through food.
Avoid high-risk foods:

Buffets
Pre-prepared salads
Ready-to-eat seafood (e.g. smoked fish) and raw seafood (e.g. some sushi)
Precooked meat products (e.g. pate, sliced meat)
Pre-prepared fruit or vegetable drinks unless pateurised or canned
Unpasteurised milk or any foods made from it (pasteurisation is the only way to destroy bacteria)
Ice cream made from raw milk
Ice cream if not served straight from the freezer (e.g. soft ice cream from ice cream vans)
Unpasteurised soft cheese (e.g. brie, camembert) unless cooked thoroughly and served hot
Ready-to-eat foods stored for longer than one day in the refrigerator
Raw vegetables unless made yourself with thoroughly-washed vegetables

Eat safe foods:

Freshly prepared and cooked foods to be eaten immediately
Hard cheeses, cheese spreads and processed cheeses
Freshly pasteurised or UHT milk and yoghurt
Tinned and pickled food
Vegetables and salads you have washed and prepared yourself

Prepare food safely:

Stick to use-by dates
Keep your kitchen clean
Wash, peel, then rewash all raw vegetables, salads and fruits before eating
Thoroughly cook all animal-origin foods, including eggs
Ensure reheated food reaches at least 70°C all the way through
Ensure food is evenly and thoroughly heated when using microwaves

Store food correctly:

Keep food covered
Refrigerate all cooked food within one hour
Consume food within a day of opening
Put stickers on your food to remind you when you opened/cooked it
Check your fridge is below 5°C and recheck once a week
Only defrost food at the bottom of the fridge (to stop dripping)
Don't defrost food in the microwave or oven
Clean the inside of your fridge once a week with hot water and liquid soap, then rinse

Be careful when eating out:

Avoid buffet and street foods
Avoid salads and raw vegetable dishes
Avoid ice
Check food hygiene ratings at ratings.food.gov.uk
Only eat food if it's served piping hot
Tell anyone cooking for you, or living with you, about these guidelines
Remember: it is OK to enquire about how food is cooked when eating out
What do I do after treatment?
Continue to follow these guidelines until your health team advises you otherwise
If you develop a fever, severe muscle aches, confusion or vomiting contact your hospital. They may want to examine you and do a blood test.
If you develop listeriosis you will be treated with antibiotics and you can continue alemtuzumab treatment once the infection has cleared.
What do I need to do now?
Check the temperature of your fridge is below 5°C
Dispose of all foods past their 'use-by' date
Place food stickers on each refrigerated item
Read our guidelines on food storage
Clean you fridge thoroughly with soap and water
Frequently Asked Questions
Can I eat eggs?

Yes, if cooked through i.e no runny yolk.

How should I store eggs?

Eggs can be stored at room temperature.

Can I eat meat?

Yes, if fully cooked and piping hot.

Can I eat rare/medium steak?

No, all meat must be fully cooked through.

Can I eat ready meals?

Yes, if fully cooked and piping hot.

Which yogurts are safe?

All pasteurized yogurts in packets/tubs are fine, including probiotic.

Can I cook, chill and reheat meals?

Yes, if chilled when stored under 5 degrees, then fully cooked and piping hot & consumed within 2 days of original preparation.

Can I eat smoked meat/fish?

Yes, if fully cooked after smoking.

Should I avoid ice?

Avoid ice in public. It is fine to make ice using a clean ice tray at home.

How should I safely store food in the fridge?

Store raw meat and poultry in clean, sealed containers on the bottom shelf of the fridge. Keep cooked meat separate from raw meat and ready-to-eat foods.
Further information
Visit food.gov.uk
If you have any outstanding questions please ask your MS team or consult your listeriosis prevention pack.